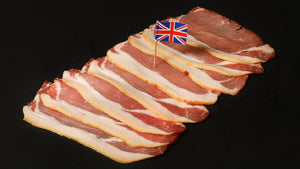 Dry-cured, thick cut smoked and unsmoked bacon - made the traditional British way by our Master Butcher in Germany and delivered directly to your home anywhere in Europe!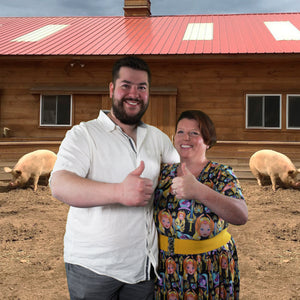 Laura and Raphael,
two British expats living in Germany who miss the authentic taste from home, have taken bacon matters into their own hands!
Check out our story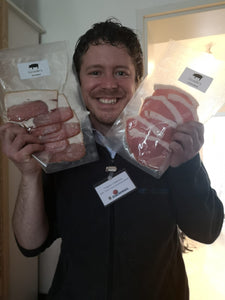 Best bacon ever!
"The thickness is just perfect, nothing like the almost transparent "bacon" you can get here in Germany. Just loved the taste! If you're a bacon fan, you'll definitely be in bacon heaven with the products from these guys!"
- Tristano C.


Order now
Englischer Bacon für Bacon Bomb & Bacon Jam
Geordie's Great British Bacon is an online shop that delivers authentic english bacon directly to your door anywhere in
Germany
. Also known as
britischer Bacon
,
englischer Bacon
, english breakfast or colloquially as 'proper' bacon, our delicious, quintessentially British bacon is made by our Master Butcher right here in Germany, following the traditional British method and using only the highest-quality ingredients. Unlike the commonly available American or streaky bacon, British bacon is a lean back cut of pork with only a small amount of fat attached. It is extremely versatile and absolutely perfect for
sandwiches
, breakfasts, in soups, stews or casseroles, on pizza, as part of a
bacon bomb
, wrapped around pork filet or chicken breasts, as homemade pigs in blankets, for bacon-chips,
bacon jam
or Bacon Braten (roasted bacon), to name but a few. It can also be baked (known in Germany as
Bacon im Backofen
, or
Bacon im Ofen
), and some people even microwave it (
Bacon in der Mikrowelle
)! Every order is sent freshly vacuum-packed with trackable express delivery and usually arrives the next day. Buy now to get the authentic taste from home.